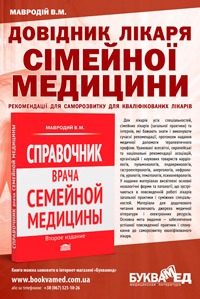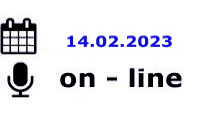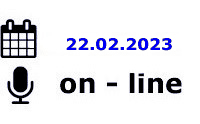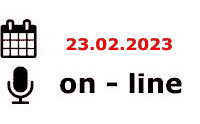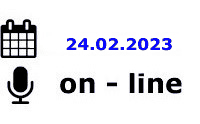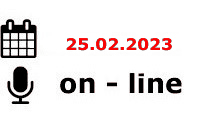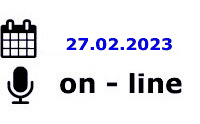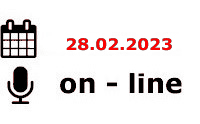 ---
СІМЕЙНІ ЛІКАРІ ТА ТЕРАПЕВТИ
день перший
день другий
---
АКУШЕРИ ГІНЕКОЛОГИ
---
КАРДІОЛОГИ, СІМЕЙНІ ЛІКАРІ, РЕВМАТОЛОГИ, НЕВРОЛОГИ, ЕНДОКРИНОЛОГИ
---
СТОМАТОЛОГИ
---
ІНФЕКЦІОНІСТИ, СІМЕЙНІ ЛІКАРІ, ПЕДІАТРИ, ГАСТРОЕНТЕРОЛОГИ, ГЕПАТОЛОГИ
день перший
день другий
---
ТРАВМАТОЛОГИ
---
ОНКОЛОГИ, (ОНКО-ГЕМАТОЛОГИ, ХІМІОТЕРАПЕВТИ, МАМОЛОГИ, ОНКО-ХІРУРГИ)
---
ЕНДОКРИНОЛОГИ, СІМЕЙНІ ЛІКАРІ, ПЕДІАТРИ, КАРДІОЛОГИ ТА ІНШІ СПЕЦІАЛІСТИ
---
ПЕДІАТРИ ТА СІМЕЙНІ ЛІКАРІ
---
АНЕСТЕЗІОЛОГИ, ХІРУРГИ
"Kidneys" Том 11, №3, 2022
Nephrological care in the conditions of martial law in Ukraine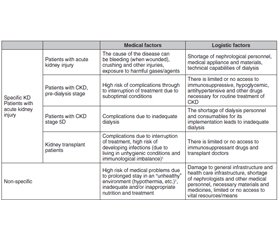 Authors:

L.D. Denova (1), D.D. Ivanov (1), R.R. Andrunevich (2), O.M. Korzh (3), E.K. Krasyuk (4) (1) — Shupyk National Healthcare University of Ukraine, Kyiv, Ukraine (2) — Western Ukrainian Specialized Children's Medical Centre, Lviv, Ukraine (3) — Kharkiv Medical Academy of Postgraduate Education, Kharkiv, Ukraine (4) — Kyiv City Center of Nephrology and Dialysis, Kyiv, Ukraine



Categories:

Nephrology



Sections:

Specialist manual
Summary
Під час збройних конфліктів (ЗК) і інших катастроф люди похилого віку, жінки, діти, немічні й хронічно хворі є найбільш вразливою категорією населення з високим ризиком для здоров'я і життя. Хронічно хворі люди із захворюваннями нирок (у тому числі з нирковою недостатністю) заслуговують на особливу увагу через повну залежність від доступного функціоналу інфраструктури й доступу до життєво важливих ліків і добре навченого персоналу. На даний час є мало інформації про наслідки ЗК для хворих з ураженням нирок порівняно з наявними даними про вплив інших катастроф. Механізми уражень при ЗК і природних або техногенних катастрофах мають схожі й відмінні риси. Відмінні риси: при ЗК переважають вогнепальні й мінно-вибухові поранення, кровотеча, отруєння токсичними речовинами, при катастрофах — переохолодження або опіки, механічні травми тощо. Спільне — пошкодження інфраструктури, у тому числі закладів охорони здоров'я, дефіцит ліків, медичного персоналу, гуманітарні та інші кризи, велике навантаження пораненими й травмованими закладів охорони здоров'я. У цій статті ми систематизували отриманий під час воєнного конфлікту матеріал, а також зробили огляд вітчизняних і іноземних статей з даної тематики, щоб оптимізувати роботу нефрологів в умовах воєнного стану й обмежених ресурсів.
During armed conflicts (AC) and other disasters, the elderly, women, children, the infirm and the chronically ill patients are the most vulnerable population, with a high risk to health and life. Chronically ill people with kidney diseases, including those with kidney failure, deserve special attention due to their complete dependence on available functional infrastructure, and access to vital drugs and well-trained personnel. Currently, there is little information on the effects of AC on patients with kidney damage compared to the available data about the effects of other disasters. Mechanisms of injuries in AC and natural or man-made disasters have similar and distinctive features. Distinctive features: during AC — mainly gunshot and mine blast injuries, bleedings, poisonings by toxic substances, during disasters — hypothermia or burns, mechanical injuries, etc. Similar features include damage to infrastructure, particularly health care facilities, shortage of medicines, medical personnel, humanitarian and other crises, and a large number of injured and traumatized people in the hospitals. In this article, we systematized the material obtained during the military conflict, as well as reviewed domestic and foreign articles on this topic in order to optimize the work of nephrologists in the conditions of martial law and limited resources.
Keywords
воєнний стан; хронічна хвороба нирок; біженці; ядерний конфлікт; нирково-замісна терапія; діаліз; трансплантація нирки; гуманітарна криза
martial law; chronic kidney disease; refugees; nuclear conflict; renal replacement therapy; dialysis; kidney transplantation; humanitarian crisis
For the full article you need to subscribe to the magazine.
Bibliography
1. War in Ukraine. Thromb. Res. 2022 May. 213. 137. doi: 10.1016/j.thromres.2022.03.020. Epub 2022 Mar 26. PMID: 35366434.
2. Piccoli G.B., Brunori G., Gesualdo L. et al. The impact of the Russian-Ukrainian war for people with chronic diseases. Nat. Rev. Nephrol. 2022. 18(7). 411-412. doi: 10.1038/s41581-022-00574-z. PMID: 35444237.
3. Sever M.S., Vanholder R., Luyckx V., Eckardt K.-U., Kolesnyk М., Wiecek А. et al. Armed Conflicts and Kidney Patients — A Consensus Statement from the Renal Disaster Relief Task Force of the ERA. NDT. 2022 July 29.
4. Maggioni A., Gonzales-Zamora J.A., Maggioni A., Peek L., McLaughlin S.A., von Both U. et al. Cascading Risks for Preventable Infectious Diseases in Children and Adolescents during the 2022 Invasion of Ukraine. Int. J. Environ. Res Public Health. 2022 Jun 8. 19(12). 7005. doi: 10.3390/ijerph19127005. PMID: 35742254; –PMCID: PMC9223098.
5. Vanholder R., Gallego D., Sever M.S. Wars and kidney patients: a statement by the European Kidney Health Alliance related to the Russian-Ukrainian conflict. J. Nephrol. 2022 Mar. 35(2). 377-380. doi: 10.1007/s40620-022-01301-4. PMID: 35246798; PMCID: PMC8897116.
6. Mungmunpuntipantip R., Kebayoon A., Wiwanitkit V. Correspondence on 'Inside the war: life in Ukraine' by Shushkevich. Int. J. Gynecol. Cancer. 2022 Jun 6. 32(6). 821. doi: 10.1136/ijgc-2022-003572. PMID: 35396210.
7. The Lancet Regional Health-Europe. The regional and global impact of the Russian invasion of Ukraine. Lancet Reg. Health Eur. 2022 Apr 1. 15. 100379. doi: 10.1016/j.lanepe.2022.100379. PMID: 35531494; PMCID: PMC9072997.
8. Zaliska O., Oleshchuk O., Forman R., Mossialos E. Health impacts of the Russian invasion in Ukraine: need for global health action. Lancet. 2022 Apr 16. 399(10334). 1450-1452. doi: 10.1016/S0140-6736(22)00615-8. Epub 2022 Apr 1. PMID: 35367006.
9. Barbara P.G., Gaetano M. The disasters of war. On kidney patients in the Ukrainian-Russian war. J. Nephrol. 2022 Mar. 35(2). 375-376. doi: 10.1007/s40620-022-01300-5. PMID: 35254641; PMCID: PMC8900475.
10. Navarese E.P., Grzelakowska K., Mangini F., Kubica J., Banach M., Benn M. et al. The spoils of war and the long-term spoiling of healthconditions of entirenations. Atherosclerosis. 2022 Jul. 352. 76-79. doi: 10.1016/j.atherosclerosis.2022.05.012. Epub 2022 May 21. PMID: 35644760; PMCID: PMC9122842.
11.Vanholder R., De Weggheleire A., Ivanov D.D., Luyckx V., Slama S., Sekkarie M., Sever M.S., Shroff R. Continuing kidney care in conflicts. Nat. Rev. Nephrol. 2022 Aug. 18(8). 479-480. doi: 10.1038/s41581-022-00588-7. PMID: 35637382.
12. Nott E. Ukraine invasion: Why I fear for Ukraine's healthcare workers. BMJ. 2022 Mar 7. 376. o605. doi: 10.1136/bmj.o605. PMID: 35256383.
13. Kolesnyk P., Frese T., Vinker S., Shushman I., Zharkova A., Messaadi N., Kolesnyk A., Bayen S. Steps towards implementing evidence-based screening in family medicine in Ukraine: SWOT-analysis of an approach of multidimensional empowerment. BMC Fam. Pract. 2021 Jan14. 22(1). 20. doi: 10.1186/s12875-021-01367-2. PMID: 33446099; PMCID: PMC7808735.
14. Stepanova N. War in Ukraine: the price of dialysis patients' survival. J. Nephrol. 2022 Apr. 35(3). 717-718. doi: 10.1007/s40620-022-01308-x. PMID: 35301700; PMCID: PMC8929456.
15.Kiel S., Weckmann G., Chenot J.F., Stracke S., Spallek J., Angelow A. Referral criteria for chronic kidney disease: implications for disease management and healthcare expenditure-analysis of a population-based sample. BMC Nephrol. 2022 Jun 24. 23(1). 225. doi: 10.1186/s12882-022-02845-0. PMID: 35751012; PMCID: PMC9229756.
16. PLOS Medicine Editors. Ukraine conflict: Prioritizing lives and health. PLoS Med. 2022 May 25. 19(5). e1004007. doi: 10.1371/journal.pmed.1004007. PMID: 35613120; PMCID: PMC9132267.
17. Shushkevich A. Inside the war: life in Ukraine. Int. J. Gynecol. Cancer. 2022 May 3. 32(5). 686-687. doi: 10.1136/ijgc-2022-003556. PMID: 35331995.
18. Curchoe C.L., Chang T.A., Trolice M.P., Telfer E.E., Quaas A.M., Kearns W.G. et al. Protecting life in a time of war. J. Assist. Reprod. Genet. 2022 Mar. 39(3). 555-557. doi: 10.1007/s10815-022-02463-7. Epub 2022 Mar 28. PMID: 35344142; PMCID: PMC8958475.
19. Nijman R.G., Bressan S., Brandenberger J., Kaur D., Keitel K., Maconochie I.K. et al. Update on the Coordinated Efforts of Looking After the Health Care Needs of Children and Young People Fleeing the Conflict Zone of Ukraine Presenting to European Emergency Departments-A Joint Statement of the European Society for Emergency Paediatrics and the European Academy of Paediatrics. Front. Pediatr. 2022 Apr 26. 10. 897803. doi: 10.3389/fped.2022.897803. PMID: 35558376; PMCID: PMC9090499.
20. Jain N., Prasad S., Bordeniuc A., Tanasov A., Shirinskaya A.V., Béla B. et al. European Countries Step-up Humanitarian and Medical Assistance to Ukraineas the Conflict Continues. J. Prim. Care Community Health. 2022 Jan-Dec. 13. 21501319221095358. doi: 10.1177/21501319221095358. PMID: 35465746; PMCID: PMC9036314.
21. Armitage R. War in Ukraine and the inverse care law. Lancet Reg. Health Eur. 2022 May 2. 17:100401. doi: 10.1016/j.lanepe.2022.100401. PMID: 35721695; PMCID: PMC9198836.
22. Ociepa-Kicińska E., Gorzałczyńska-Koczkodaj M. Forms of Aid Provided to Refugees of the 2022 Russia-Ukraine War: The Case of Poland. Int. J. Environ. Res Public Health. 2022 Jun 9. 19(12). 7085. doi: 10.3390/ijerph19127085. PMID: 35742349; PMCID: PMC9223231.
23. Jankowski M., Gujski M. Editorial: The Public Health Implications for the Refugee Population, Particularly in Poland, Due to the War in Ukraine. Med. Sci Monit. 2022 Apr 1. 28. e936808-1-4. doi: 10.12659/MSM.936808. PMCID: PMC8982099.
24. Lewtak K., Kanecki K., Tyszko P., Goryński P., Bogdan M., Nitsch-Osuch A. Ukraine war refugees — threats and new challenges for healthcare in Poland. J. Hosp. Infect. 2022 Jul. 125. 37-43. doi: 10.1016/j.jhin.2022.04.006. Epub 2022 Apr 21. PMID: 35461902.
25. Kardas P., Babicki M., Krawczyk J., Mastalerz-Migas A. War in Ukraine and the challenges it brings to the Polish healthcare system. Lancet Reg. Health Eur. 2022 Mar 15. 15. 100365. doi: 10.1016/j.lanepe.2022.100365. PMID: 35531498; PMCID: PMC9073000.
26. Fatyga E., Dzięgielewska-Gęsiak S., Muc-Wierzgoń M. Organization of Medical Assistance in Poland for Ukrainian Citizens During the Russia-Ukraine War. Front Public Health. 2022 Jul 7. 10. 904588. doi: 10.3389/fpubh.2022.904588. PMID: 35874981; –PMCID: PMC9300910.
27. Miller A.C. What's new in critical illness and injury science? The effect of concomitant natural and manmade disasters on chronic disease exacerbations: COVID-19, armed conflicts, refugee crises and research needs. Int. J. Crit. Illn. Inj. Sci. 2022 Jan-Mar. 12(1). 1-3. doi: 10.4103/ijciis.ijciis_19_22. Epub 2022 Mar 24. PMID: 35433393; PMCID: PMC9008291.
28. Fontanarosa P.B., Flanagin A., Golub R.M. Catastrophic Health Consequences of the War in Ukraine. JAMA. 2022 Apr 26. 327(16). 1549-1550. doi: 10.1001/jama.2022.6046. PMID: 35363251.
29. Greenaway C., Fabreau G., Pottie K. The war in Ukraine and refugee health care: considerations for health care providers in Canada. CMAJ. 2022 Jul 11. 194(26). E911-E915. doi: 10.1503/cmaj.220675. PMID: 35817429; PMCID: PMC9328477.
30. Southall D.P., MacDonald R., Kostiuk O., Shcherbakov V., Deierl A. The UN must provide secure medical and humanitarian assistance in Ukraine. Lancet. 2022 Apr 2. 399(10332). 1301-1302. doi: 10.1016/S0140-6736(22)00526-8. Epub 2022 Mar 17. PMID: 35305704.
31. Bielka K., Kotfis K., Poropatich R., Pinsky M.R. Act now! Critical care roles and obligations during an urban war. Crit. Care. 2022 Mar 21. 26(1). 65. doi: 10.1186/s13054-022-03951-z. PMID: 35313937; PMCID: PMC8935889.
32.Wandschneider L., Namer Y., Davidovitch N., Nitzan D., Otok R., Leighton L. et al. The Role of Europe's Schools of Public Health in Times of War: ASPHER Statement on the War Against Ukraine. Public Health Rev. 2022 Mar 16. 43. 1604880. doi: 10.3389/phrs.2022.1604880. PMID: 35371592; PMCID: PMC8966375.
33. Capasso A., Skipalska H., Nadal J., Zamostian P., Kompaniiets O., Navario P., Castillo T.P. Lessons from the field: Recommendations for gender-based violence prevention and treatment for displaced women in conflict-affected Ukraine. Lancet Reg. Health Eur. 2022 May 7. 17. 100408. doi: 10.1016/j.lanepe.2022.100408. PMID: 35721697; PMCID: PMC9198962.
34. Jones-Schenk J. Courageous Leadership. J. Contin. Educ. Nurs. 2022 May. 53(5). 198-199. doi: 10.3928/00220124-20220407-02. Epub 2022 May 1. PMID: 35510922.
35. Zimba O., Gasparyan A.Y., Ahmed S. Sustainable Development Goals in the Time of Crisis. J. Korean Med. Sci. 2022 May 16. 37(19). e152. doi: 10.3346/jkms.2022.37.e152. PMID: 35578584; PMCID: PMC9110265.
36. Dhawan M., Choudhary O.P., Priyanka., Saied A.A. Russo-Ukrainian war amid the COVID-19 pandemic: Global impact and containment strategy. Int. J. Surg. 2022 Jun. 102. 106675. doi: 10.1016/j.ijsu.2022.106675. Epub 2022 May 13. PMID: 35569761; PMCID: PMC9098802.
37. Choudhary O.P., Saied A.A., Priyanka, Ali R.K., Maulud S.Q. Russo-Ukrainian war: An unexpected event during the COVID-19 pandemic. Travel Med. Infect. Dis. 2022 Jul-Aug. 48. 102346. doi: 10.1016/j.tmaid.2022.102346. Epub 2022 Apr 27. PMID: 35487342; PMCID: PMC9042412.
38. Health and health care in Ukraine: in transition and at risk. Lancet. 2022 Feb 12. 399(10325). 605. doi: 10.1016/S0140-6736(22)00271-9. PMID: 35151379.
39. Butenop J., Brake T., Mauder S., Razum O. Gesundheitliche Lage in der Ukraine vor Kriegsbeginn und ihre Relevanz für die Ver–sorgung ukrainischer Geflüchteter in Deutschland: Literaturdurchsicht, Risikoanalyse und Prioritätensetzung [Health Situation in Ukraine Before Onset of War and Its Relevance for Health Care for Ukrainian Refugees in Germany: Literature Review, Risk Analysis, and Priority Setting]. Gesundheitswesen. 2022 Jul 15. German. doi: 10.1055/a-1876-2423. Epub ahead of print. PMID: 35839784.
40. Nkunu V., Wiebe N., Bello A., Campbell S., Tannor E., Varghese C. et al. Update on Existing Care Models for Chronic Kidney Disease in Low- and Middle-Income Countries: A Systematic Review. Can. J. Kidney Health Dis. 2022 Mar 2. 9. 20543581221077505. doi: 10.1177/20543581221077505. PMID: 35251672; PMCID: PMC8894943.
41. Patel S.S., Erickson T.B. The new humanitarian crisis in Ukraine: Coping with the public health impact of hybrid warfare, mass migration, and mental health trauma. Disaster Med. Public Health Prep. 2022 Mar 23. 1-5. doi: 10.1017/dmp.2022.70. Epub ahead of print. PMID: 35317883.
42. Chai P.R., Berlyand Y., Goralnick E., Goldfine C.E., VanRooyen M.J., Hryhorczuk D., Erickson T.B. Wartime toxicology: the spectre of chemical and radiological warfare in Ukraine. Toxicol. Commun. 2022. 6(1). 52-58. doi: 10.1080/24734306.2022.2056374. Epub 2022 Apr 1. PMID: 35497376; PMCID: PMC9049637.
43. Ramírez C., Durón R.M. The Russia-Ukraine war could bring catastrophic public-health challenges beyond COVID-19. Int. J. Infect. Dis. 2022 Jul. 120. 44-45. doi: 10.1016/j.ijid.2022.04.016. Epub 2022 Apr 12. PMID: 35427786; PMCID: PMC9004220.
44. Gruzieva T.S., Hrechyshkina N.V., Inshakova H.V., Dubovyk V.Y., Kalashnykova N.M. Development of the public health system in the conditions of current challenges and threats. Wiad. Lek. 2022. 75 (5 pt 1). 1130-1135. doi: 10.36740/WLek202205114. PMID: 35758490.
45. Srichawla B.S., Khazeei Tabari M.A., Găman M.A., Munoz-Valencia A., Bonilla-Escobar F.J. War on Ukraine: Impact on Ukrainian Medical Students. Int. J. Med. Stud. 2022 Jan-Mar. 10(1). 15-17. doi: 10.5195/ijms.2022.1468. Epub 2022 Apr 5. PMID: 35433038; PMCID: PMC9012242.
46. Денова Л.Д. Principles of bioethics in treatment and rehabilitation of patients with сhronic kidney disease. doi: 10.5281/zenodo.6815211. Зб. матер. наук.-практ. конф. з міжнар. участю «Young Science 4.0», м. Київ, 30 травня 2022 року.
47. Marchese V., Formenti B., Cocco N., Russo G., Testa J., Castelli F., Mazzetti M. Examining the pre-war health burden of Ukraine for prioritisation by European countries receiving Ukrainian refugees. Lancet Reg. Health Eur. 2022 Mar 18. 15. 100369. doi: 10.1016/j.lanepe.2022.100369. PMID: 35531492; PMCID: PMC9072998.
48. Zenner D., Mendez A.R., Schillinger S., Val E., Wickra–mage K. Health and illness in migrants and refugees arriving in Europe: analysis of the electronic personal health record system. J. Tra–vel. Med. 2022. taac035. doi: https://doi.org/10.1093/jtm/taac035.
49. Al-Oraibi A., Hassan O., Chattopadhyay K., Nellums L.B. The prevalence of non-communicable diseases among Syrian refugees in Syria's neighbouring host countries: a systematic review and meta-analysis. Public Health. 2022 Apr. 205. 139-149. doi: 10.1016/j.puhe.2022.01.034. Epub 2022 Mar 10. PMID: 35279542.
50. Денова Л.Д. Уромодулін як потенційний кандидат-маркер прогнозування перебігу хронічної хвороби нирок. Нирки. 2021. Т. 10. № 4. doi: http://dx.doi.org/10.22141/2307-1257.10.4.2021.247898.
51. Денова Л.Д. Значення протеомних досліджень новітніх маркерів ураження нирок у сечі для оцінки перебігу, прогресування й ускладнень у пацієнтів із ХХН. Нирки. 2022. Т. 11. № 2. doi: https://doi.org/10.22141/2307-1257.11.2.2022.363.
52. Kennard A., Glasgow N., Rainsford S., Talaulikar G. Frailty in chronic kidney disease: challenges in nephrology practice. A review of current literature. Intern. Med. J. 2022 Mar 30. doi: 10.1111/imj.15759. Epub ahead of print. PMID: 35353436.
53. Zemp D.D., Giannini O., Quadri P., Rabuffetti M., Tettamanti M., de Bruin E.D. Gait disorders in CKD patients: muscle wasting or cognitive impairment? A cross-sectional pilot study to investigate gait signatures in Stage 1-5 CKD patients. BMC Nephrol. 2022 Feb 21. 23(1). 72. doi: 10.1186/s12882-022-02697-8. PMID: 35189838; PMCID: PMC8862207.
54. Denova L.D., Ivanov D.D. Influence of oxidative, carbonyl, and nitrosative stresses on the course of CKD. Нирки. 2022. Т. 11. № 1. doi: https://doi.org/10.22141/2307-1257.11.1.2022.360.